(Last Updated On: January 12, 2019)
Fiverr is a marketplace where you can buy or sell services. Many people already talked about it from the perspective of sellers but very few have talked about Fiverr experience, the services of seller, their own customer support and platform for buyers.
As, we all know that people like us. From "like us" we mean ordinary people who are looking to hire a freelancer for numerous types of works without digging holes in our pockets.
Okay, let us say like that, Fiverr is a marketplace where you can hire freelancers for as low as $5. But, the question is that will you get the quality of work on cheaper prices? We have got the answer by testing all the top categories and services of the Fiverr and we are going to answer everything, about every major category in this Fiverr review.
At, infowizard we believe in honesty. In fact, its' our policy. We are going to share our experience as a buyer.  We hired numerous freelancers from different categories and niches so, we can provide better information to our readers and guide them what to buy or not to buy on Fiverr.
Know the reasons: Why companies hire freelancers 
Now, its cleared that we are going to look at Fiverr from the perspective of buyer. A buyer can be (writer, blogger, digital marketer, Social media handler, small business, large business, online business, musician, student, teacher, website developer or any person who are willing to hire a freelancer for any sort of work. Even, an individual who just want to get his photo edit).
Fiverr is a very big marketplace for digital services.  we couldn't cover every one of it, but tried most of the categories and services. Nonetheless, you will get the overall idea in this Fiverr review.
Fiverr Categories We Tested and Reviewed

We have purchased the services ourselves from the following categories and going to share our experience.
Whiteboard animation and Explainer Videos
This is the most demanding category for any category of business, blogger, or a person who is looking to get his message across the world. Even companies like Coca cola, Amazon, eBay has their advertisement and product explanation done in whiteboard animation and explainer videos just because, these types of videos convert very well. But, do you know that these videos cost a lot from $1000/minute to $5000/minute? But, on Fiverr there are sellers who are offering very high quality of whiteboard animation services starting from $5 only. You can also check out cheap whiteboard animation services we covered here.
Okay, we have tested the different sellers by purchasing their services and the maximum we paid for the whiteboard animation service was $50. But, the quality we got was awesome. Off course, we were not expecting to get a high-quality video under $50.
Worth It?
Yes, most sellers in this category are very professional and provides very good quality of services. Upon research, we found out that many whiteboard animation companies resell the same services for a hefty price. So, we recommend Fiverr whiteboard animation and explainer videos category if you want to save the money and want the work done professionally.
Research and Summaries
This is the second category we tested because from high school students to PHD level people want research and summaries done. Their can be multiple reasons of not doing by themselves but, hey we are not here to judge but to share our experience.
We hired the sellers from this category. The maximum we paid was $15 and you know what we got the work done without any flaws. The Research was done with references, the summarization was also above par, and the content was unique and free of plagiarism. All done in $15.
Worth it?
Yes, not a plenty of sellers in this category who can done the work professionally but there are freelancers who can the work done for you flawlessly. So, off course we recommend the Fiverr for hiring the freelancer for Essay writing also research and summaries.
Website Building
If, you are a business you need to have an online presence in today's world otherwise you will lose the competition in your niche. No matter what kind of business you own whenever someone hear about it, they simply search it on search engines and if you will not have the online presence in form of website and social media they will quickly lose interest in your product or services. And, 80 percent shopping done online in current world. So, having your website is must.
You can pay thousand of dollars to a company to build a website for you or can hire a freelancer on Fiverr. Certainly. You are not going to get a website within $5 but you can get a lot cheaper than website builders or web development companies.
To test and review this category of Fiverr we hired the freelancer to develop a website for one of our friend's business. He (our friend) got the quote of $10,000 from some very popular website building company but on Fiverr he got the same work done under $300.
Worth It?
Yes, this category also passed our test and we are positive that you can hire the professional yet cheap website developer on Fiverr. Therefore, if you need a website we recommend Fiverr.
Animation of Characters and Modeling
Looking for 2D or 3D animation for any sort of project? Then you can try this category on Fiverr. Here are many freelancers offering the services on budget.
We only utilized this category for the test purpose and hired the freelancer for 3D modeling and the work done was quite nice. We only paid $45 for the 3D model of a single Object.
Worth it?
Yes, this category is also full of professional sellers and they do provide outstanding value for your money.
Logo Designing

Logo is the most basic thing which represent the business and company. And, it is going to represent you wherever you go. The branding is very important and having the best, attractive logo plays an important role in making your business or company grow.
So, the question is that can you get professional on Fiverr? In our test, we came to know that yes there are plenty of professional freelancers which are offering logo designing services for $5 and more. We hired one Freelancer and got two logos for $10 only.
Worth It?
For logo designing yes, we are positive that Fiverr is an excellent marketplace to get the job done.
WordPress Services
WordPress is the most popular platform to build your websites and blogs. In fact, our this very own blog is running Word Press. Without any doubt, Word Press is the easiest to use platform but still you need to learn a lot to call yourself WordPress Pro.
On Fiverr sellers are offering services like WordPress website building, Bug fixes, security backup, migration etc. In simple words everything related to WordPress. We were recently facing some bug issues and we hired the freelancer personally from Fiverr.
The issue was our menu was not showing on the mobile devices and theme was breaking so, we hired the freelancer for just $10 and he not only fixed it but also sent us the report of what was the issue and how he fixed it.
Worth It?
Off course, yes. Our own blog suffered from bugs and it was fixed by WordPress expert from Fiverr.
E-commerce Services 
Having an online store in this age can be beneficial and majority of the brands are dealing their customers via ecommerce stores including their outlets in the market. The recent survey showed that the businesses who have online shopping sites increased their sales by 200 percent.
Anyhow, we have conducted the test by hiring the services from Fiverr for some popular brand. They not allowed to reveal their name, but they get the job done via Fiverr for $250 only.
Worth it?
Yes, there are many professionals are there on Fiverr who are offering excellent ecommerce website building and handling services.
Search Engine Optimization
If you want to grow your online business, SEO can play vital role in that. There is no traffic equal to organic Traffic. The traffic coming Via popular search Engines like Google known as organic traffic, this traffic holds extreme value because they visitors come to your website, blog via targeted keywords and they converts into leads and sales very well.
We hired the 10 freelancers for Fiverr dealing in SEO and the results were not good. There are many freelancers who are offering on page and Off page SEO services, but you are not going to get any satisfactory results from those gigs.
Worth it?
Nope, Avoid this category as much as you can except for Fiverr Pro sellers. Fiverr Pro gigs are not cheap, but sellers are handpicked, they are very famous and 100 percent real in their services. So, do not waste your money on SEO gigs on Fiverr unless you are hiring from Fiverr Pro.
Translation services
You have any project or want anything to get translated you can hire the freelancer on Fiverr for your need. There are very good Translators which does not provide translation using AI tools.
We tried bunch of Translators and they offered the good services. Few had some mistakes which edited after proof reading but for $5 you are not going to get any better translator.
Worth it?  
If you are looking to hire a cheap freelancer than marketplace of Fiverr can help you.
Website Traffic
Visitors are bloodline of any website or blog. If, you do not have them you cannot grow your online presence. E.g. We done the research invested our money in testing the services so, we can provide the better experience to our readers. But, if you guys do not read this or take any actions and support us we are nothing. The time we spent on researching and writing this comprehensive article will be wasted.
As, we are discussing this matter. We really want to thank our readers who support us and enjoy our posts and knowledge we provide. You Guys are our heartbeat and we would like to keep it beating forever.
Well, we got emotional there now the emotions are out of the way. You guys should know that generating traffic is not an easy task and certainly you are not going to get real visitors for $5. So, majority of the services who are selling website traffic are rip off and we would not recommend them at all.
keep in mind that we are not blaming every web traffic seller. However, our tests showed that the traffic sent to us were bots and from proxies.
Worth it?
In our eyes no, and we are not going to hire web traffic sellers on Fiverr unless they assure you that they are providing the 100 percent real traffic and reveal you A to Z procedure. There are no magic buttons which can generate traffic for you. But, if you are persistent maybe you will find someone who are selling real traffic.
Infographics
The easiest way to clarify anything after explainer videos are infographics. They engage the users very well.
We hired the infographic designer from Fiverr and she provided the services as described. The cost of infographic was $10 only but the quality was above par.
Worth It?
Yes, many professionals there who are willing to offer excellent infographic services on competitive prices.
Domain Research
Having the right domain is important thing in an online world. And you can hire some excellent researcher on Fiverr.
We hired the domain researcher from Fiverr to find us some expired domains with high authority backlinking profile. And, do you know that that seller did the job for $30. In 30 bucks he provided us 4 expired domains which were upvoted by websites like Huffington post and many other premium websites.
Worth it?
Yes, Fiverr marketplace has good domain researcher and can provide you outstanding value.
Fun and Lifestyle
This is the major category and has sub categories like online lessons, Astrology reading, Spiritual healing, viral videos etc.
We are not going to lie, we not tested this category at all but upon research we came to know that astrology readers, spiritual healers and any other services are fake. And you are not going to find many good teachers as well in online lessons category.
As, we have not tested this category because upon looking we decided its best not to waste our time and money on these gigs. Also, the users feedback was not good, and our perspective is built on that.
Worth it?
See, it's a common sense no Spiritual healer can take you out of your troubles. There are laughable titles like "I will make you financially successful" and selling the services for $15. Can you see the irony? How someone can make you successful if he/she himself depending upon your $15. Why not make themselves successful first? We are sorry if someone is getting hurt from this, but this is our opinion and we cannot recommend services like these to anyone.
As, we are talking about whole category not just subcategory like spellcasters and healers. You can find good services as well in viral videos, health related guidance and for having fun you can hire pranksters as well.
Fiverr Pro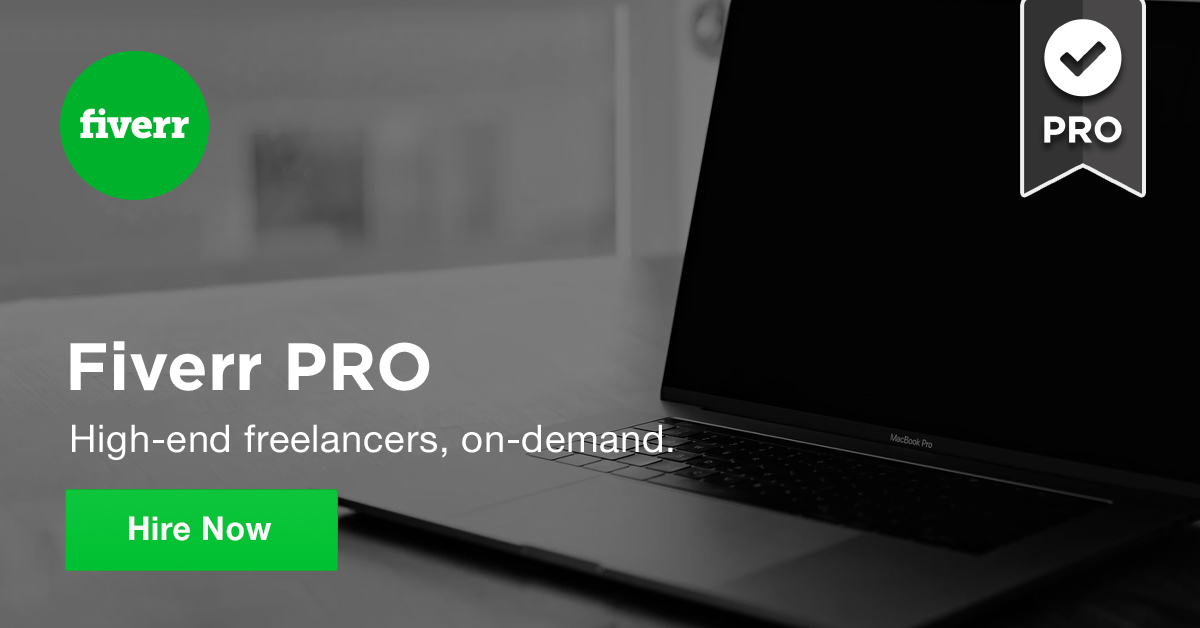 We think this is the biggest introduction by Fiverr since it's launch. In Fiverr Pro you are only going to find sellers which are truly verified. You can Hire Fiverr Pro gigs in any category. They are going to cost more than normal gigs, but they do worth it.
You can even find verified SEO experts in Fiverr PRO. Fiverr Pro sellers need to meet certain criteria to attain Pro sign on them. They must go through questionnaire and interview in which they must explain their experience, knowledge, work background and many more things all with the proof. And, after that Fiverr handpick some of them.
The benefits of Fiverr Pro is that you are truly going to get 100 percent verified and professional services.
Fiverr pro is not designed for average people but for businesses only, but you still can hire Fiverr Pro services if you can afford it.
We tested Fiverr Pro ourselves and the services we tested were Social media brand building. We had 100 likes on Facebook page and 29 followers on Twitter. We only hired the Pro freelancer for Facebook Page growth and after the completion of services we had 2000-real likes on Facebook and many People also followed us on Twitter which proved that the service was real because we not paid for any other social media handle.
Worth it?
Yes, we only tested the Facebook page growth service which costed only $200 but it really boosted our Social media presence not only Facebook but on other Platforms as well including Twitter. So, yeah, we do recommend Fiverr Pro.
Fiverr Platform
We want to provide maximum Information to our readers. We have covered the sellers and categories, but we would not leave you without reviewing Fiverr Platform itself. Let's look at Fiverr Customers support, Payment Methods and Buyer's Protection.
Customer Support
Fiverr Customer support is usually friendly. We met some rude members from support but maybe that was our bad luck. On majority, side Fiverr support is good they operate their support services via Zendesk. So, you can See your tickets status and you will be notified via emails as well. They usually reply in one business day. Overall, Fiverr customer support is above par.
Payment Methods
Fiverr offers multiple payment methods to their customers you can pay credit card, debit card and PayPal. You can also pay via Apple via if you are using Fiverr App on IOS.
Buyer's Protection
As a buyer this is the top feature in our eye because Fiverr is in favor of buyer's and you will see Fiverr sellers do complain about it. But, if seller failed to provide the service as he/she promised to do no worries, you are protected you can tell them to fix the delivery via revisions. If they still cannot fix it, you can ask for your money to be refunded in resolution center.
In short, Fiverr takes your business seriously and your money is protected all the time. We experienced it and highly satisfied.
Final Verdict
We are concluding Fiverr review here. We tried our best to provide maximum, honest and best information to you folks. Most of the sellers on Fiverr are honest, respect their customers and willing to co-operate till the end which shows that they are professional and serious about doing your work without digging holes in your pocket. The platform of Fiverr itself is very good in terms of ease of use, support for customers and payment methods and the protection for buyer's and buyer's transactions are top notch.
If, you are looking to invest more in freelancers then Fiverr Pro is there to up the game. The Fiverr Pro sellers are very good for businesses and people who possess the higher budgets.
And in the end, Fiverr is for everyone who are looking to hire a cheap or expensive freelancer. We can say that, Fiverr fits all.
Please do not forget to share this review with others and if, you like our work you can subscribe to our blog as well.